Prof. Dimitri Mavris Speaks on Cross-Institute Smart City Panel
Prof. Dimitri Mavris Speaks on Cross-Institute Smart City Panel
February 16, 2023
3 mins read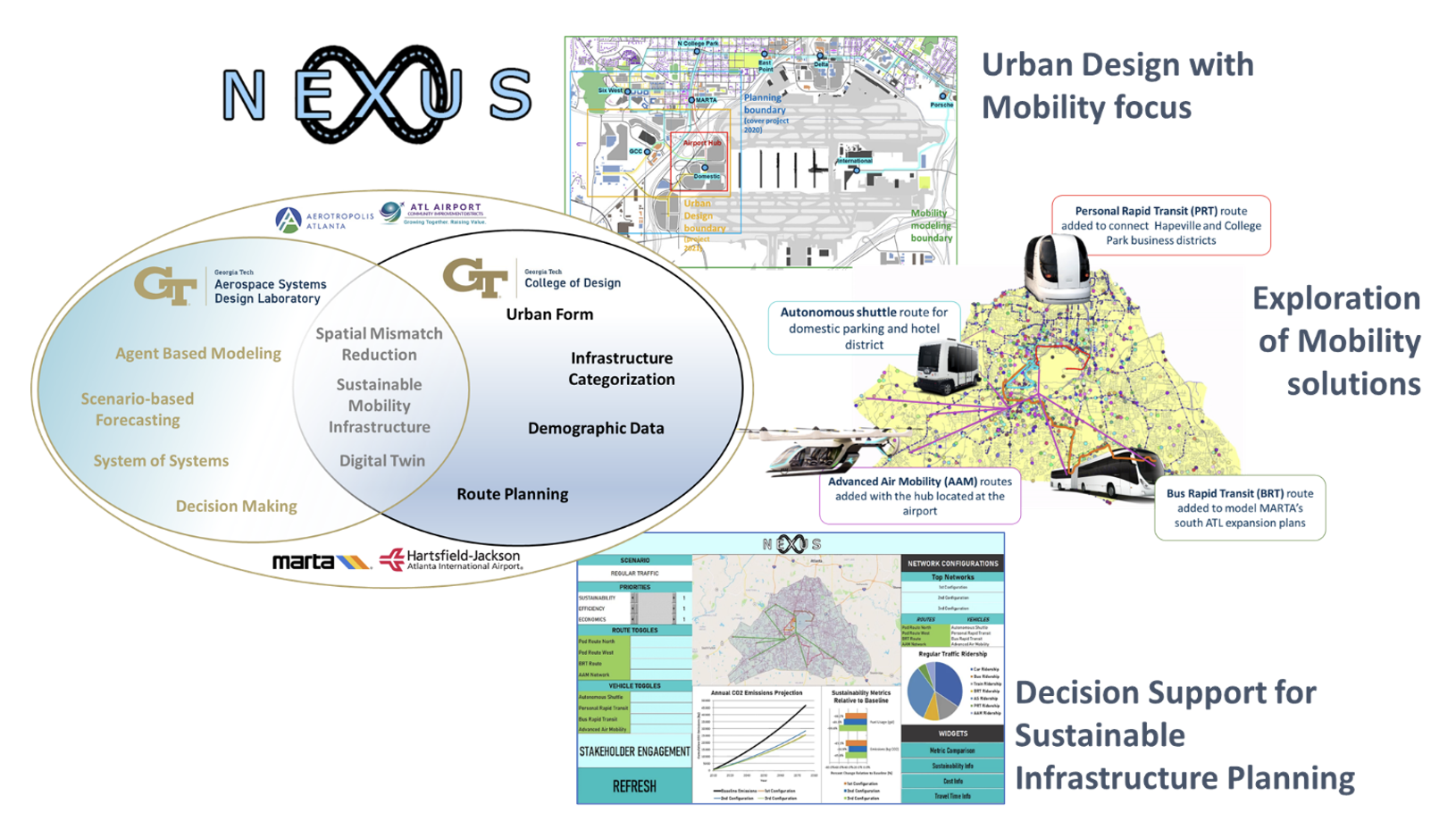 On 16 February Professor Dimitri Mavris participated in the panel "Georgia Tech Urban Research: Smart City Design, Global Sustainability." A joint endeavor between the College of Design and the College of Engineering, the panel discussed ways city design and technology can give communities a more sustainable, resilient, and socially inclusive future.
Other panelists included Perry Yang, director of the Eco Urban Lab and a professor in the School of City and Regional Planning and the School of Architecture; Subhro Guhathakurta, professor and director of the Center for Spatial Planning Analytics and Visualization; Akito Murayama, head of Urban Land Use Planning Unit, Department of Urban Engineering at the University of Tokyo; and Ingeborg Rocker, professor in the School of Architecture.
During the panel Mavris cited ASDL's work on the Georgia Tech Smart Campus as well as the Kendeda Building for Innovative Sustainable Design as examples of how data collected by sensors in buildings can be used in system of systems studies to make buildings more efficient.
Mavris' participation on the panel is one of many ways that ASDL has collaborated with Yang and the College of Design over the past few years. Dr. Michael Balchanos is the lead ASDL Research Engineer supporting this collaboration and has assisted with all the related activities. Starting in Fall 2020, this partnership introduced a jointly taught course between the Schools of Aerospace Engineering, Architecture and City Planning, as an effort to build an interdisciplinary collaboration nexus with industry, government, and academia to address environment and societal issues in future planning and design of Atlanta's Airport City (Aerotropolis). The launch of this partnership was motivated by Georgia Tech's leadership in Smart Cities and Connected Communities and responded to the needs of ATL Airport Community Improvement Districts (AACIDs).
Of particular interest within the Aerotropolis Initiative, are topics of Mobility, Connectivity and Environmental Sustainability, where Georgia Tech researchers seek to support stakeholders in key planning and technology selection decisions. This partnership includes support by the Hartsfield-Jackson Atlanta International Airport, the Aerotropolis Atlanta Alliance, MARTA, and the cities of Hapeville, College Park, and East Point.
Introduced in the Fall of 2020, and currently in its upcoming third year, the jointly taught Smart Cities Workshop course has been attracting a growing number of engineering, architecture/city planning and computer science students. Students work together in multidisciplinary teams to formulate ideas and digital engineering solutions on sustainable mobility, space utilization and technology integration for the Aerotropolis of the future. Modeled after ASDL's Grand Challenges, students present their work to a panel comprised of industry and government affiliates, who represent stakeholder interests within the Atlanta Aerotropolis.
Research contributions by the Smart Cities Workshop course students have been supporting the work of ASDL Grand Challenge teams since 2020. Related Grand Challenge projects included students from both ASDL and College of Design addressed topics such as reducing the spatial mismatch of housing affordability and job location through inclusive urban mobility and exploring enabling mobility concepts and digital twin-based approaches for sustainable infrastructure planning.