Mission
The mission of the Digital Engineering Division (DED) is to support the development of the next generation of digital models and ecosystems by closely aligning the physical and digital worlds.
Functions
Digital Engineering, in its very essence, is concerned with advancements in computing, modeling, data management, and analytical capabilities to improve the practice of engineering. Its core functions include:
Digital Intelligence
Living Habitats & Smart Cities
Digital Infrastructure & Sustainability
Machine Learning & Artificial Intelligence
Activities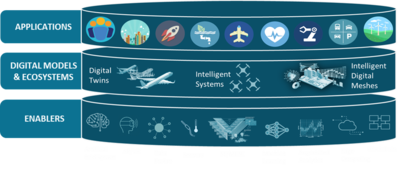 In its research, DED leverages and integrates a number of capabilities such as the Internet of Things, data fusion techniques, machine learning and artificial intelligence approaches, MBSE and architecture frameworks, and visual analytics.
The applications DED addresses in its projects extend beyond aerospace engineering to include industries and research fields such as energy, manufacturing, transportation, smart cities, and infrastructure.
Each of the research activities that DED pursues integrate the following elements:

Integration of models and data sources across disciplines and functional layers to help in decision making
Development or integration of artificial intelligence and machine learning approaches
Exploitation of connections between people, applications, devices and services, and
Training and mentoring of our students through a number of Grand Challenges, sponsored research projects, and Master's and Ph.D. research

DED researchers actively participation in a number of professional societies including the American Institute of Aeronautics and Astronautics, OMG Digital Twin Consortium, INCOSE, American Society of Mechanical Engineers, National Agency for Finite Element Methods and Standards. Involvement in these groups helps ensure that ASDL students have the necessary skills to fill positions that did not exist 10 years ago or ones that have been digitally transformed.
Team